Texas teams share sustainable practices during meeting with Mexican officials
Mar 10, 2020
A company site in San Antonio recently served as the backdrop for a gathering of officials intent on furthering sustainable business practices along the United States' border with Mexico.
The meeting, which took place at Martin Marietta's Beckmann Quarry, was attended by representatives from the Border Affairs Division of the Texas Commission on Environmental Quality (TCEQ) – the state's environmental agency, and from the Coahuila Secretariat of the Environment – a comparable department that regulates environmental matters in the Mexican state of Coahuila.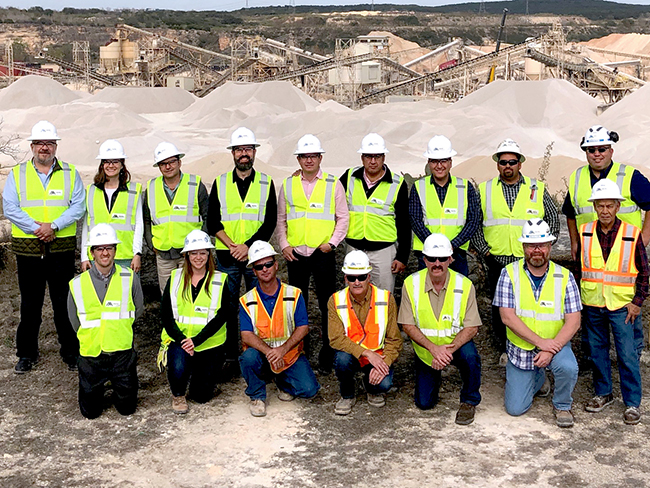 According to the TCEQ, the agencies have long worked together to improve environmental conditions along the border and, in August, signed a four-year agreement that aims to "increase the exchange of knowledge, experience and technology related to protecting human health and the environment."
Environmental Services Manager Kevin Stone is based in the Southwest Division's Central Texas Aggregates District Office in San Antonio and, working with District Vice President-General Manager Bill Podrazik and Beckmann Plant Manager Jeremey Smith, helped coordinate the December event.
"The main topic of our meeting was concrete crushing and recycling," Stone said. "Companies in Coahuila have been doing a great deal of demolition in recent years and sending the material directly to the landfill, which is incredibly wasteful. Our aim was to show how concrete recovered during the demolition process can be crushed and reused as base material and other valuable products."
Senior Environmental Engineer Leslie Mackay also represented Martin Marietta at the meeting and said the event allowed members of the Mexican delegation to seek clarification on some of the more technical elements of the concrete crushing process.
"We were able to show them the portable crusher we use to crush the concrete and introduce them to several Spanish-speaking members of our operations team," Mackay said. "It was really a great starting point that we hope provided the group with enough information to take back to their businesses in Mexico."
While the event is unlikely to yield any substantial gains from a business perspective, Mackay said the meeting was important for other reasons.
"Sharing a border means we share resources, so encouraging our neighbors to operate in an environmentally friendly way is beneficial to everyone," she said. "Martin Marietta has developed some truly innovative and sustainable business practices and we're grateful for the opportunity to share that information."