Martin Marietta helps Komatsu expand facility
Martin Marietta crews work with Komatsu on expanding the company's facility in Longview, Texas
Oct 01, 2023
The name Komatsu is certainly no stranger to Martin Marietta employees.
For more than a century, Komatsu has developed and supplied equipment and services for the construction, forestry and, of course, mining industries.
If you've been on a Martin Marietta site, chances are you have seen a Komatsu product. The wheel loaders, haul trucks and other equipment the company produces help Martin Marietta stay on top of its worldclass standards.
And now, thanks to help from Martin Marietta's Southwest Division, Komatsu is gaining a new and improved Longview, Texas, facility that will help create and distribute products worldwide.
"We use Komatsu daily on our sites to help with our products, so it's cool to use those same products to help Komatsu," said Matt Parker, a division sales representative. "We'll end up using the machines they're making at this facility. It is like the circle of life."
The facility, which comes in at 56,000 square feet, utilized many of Martin Marietta's top-quality products, including ready mix for the building's interior and exterior, cement for stabilization and aggregates for the foundation.
This new Komatsu building significantly expands the office and administration structure already on its manufacturing campus in the eastern part of the state. This growth will help the company consolidate functions previously spread out across various facilities into one central hub. The current target move-in date is the end of 2023.
"With new investments in this campus of close to $100 million, our goal is to continue to demonstrate that we are a solid community partner that offers good, family-sustaining jobs.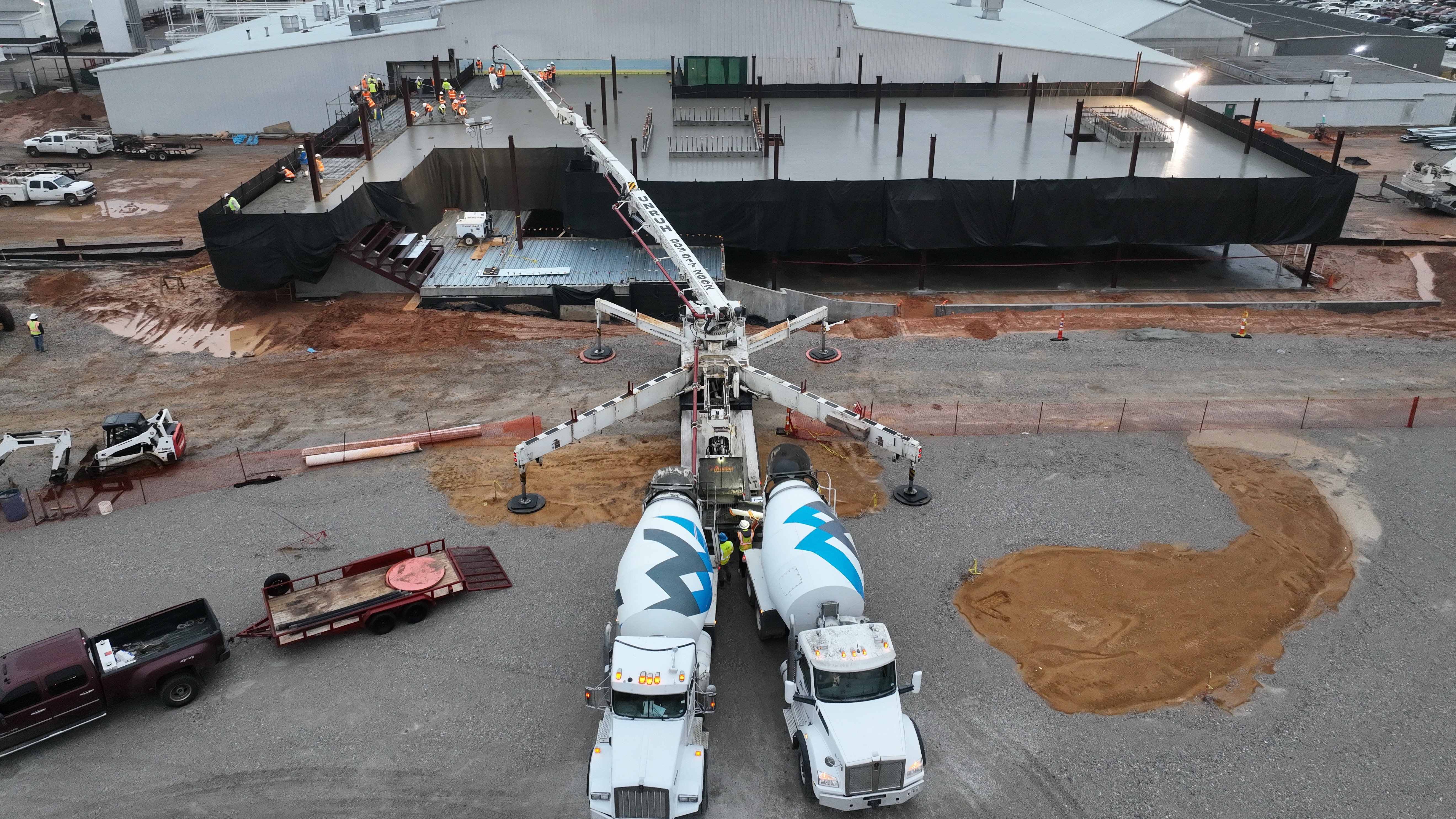 By taking functions that were spread across six buildings and consolidating them into one new energy-efficient facility, we are constructing a building that is designed to not only better serve our existing workforce, but is also sized for our future growth," said General Manager of Longview Operations for Komatsu Jesse Dubberly.
While the facility offers Komatsu sustainable business improvements, it will also bring great benefits to the people of Longview, which Parker describes as a "welcoming piece for the town" and a "beacon for local job opportunity."
That is because – in addition to office facilities that will employ 230 people – the new building will house an operative center that includes a café, marketplace, indoor and outdoor seating, multipurpose room and store, as well as safety and well-being services such as a first-aid room, mother's room and direct access to emergency vehicles.
"This project is not only great for Komatsu, but also for the people of Longview," Parker said. "The company is getting a high-tech office building and will continue to grow here. And, for the people, they're getting a great employer and an aesthetically pleasing new facility that shows the city is progressing and growing." Parker said working hand-inhand with Komatsu on the project was an incredible experience. "I was extremely impressed with Komatsu and its contractors," he said. "They were all very well organized, professional and coordinated. Every single aspect was planned to a tee."
Parker further explained that many associated with the project understood, and were impressed by, Martin Marietta's safety standards.
"Safety was, as always, the top priority, and luckily the site was very accessible, so we could operate at our worldclass safety standards," he said. "In every aspect, Komatsu was very amazed by our work and products."
And now, with the project wrapping up, Parker said it is a great time to reflect on how a partnership of this magnitude can help a whole town of people.
"For me, the most rewarding part of this project is seeing the finished product," he said. "I drive past this building every day now, and it's so humbling to look out and say, 'Hey, we helped with that; Martin Marietta is making an impact here.'"