Martin Marietta welcomes new Pacific Region
Company meets with West Coast partners as latest acquisition closes
Oct 02, 2021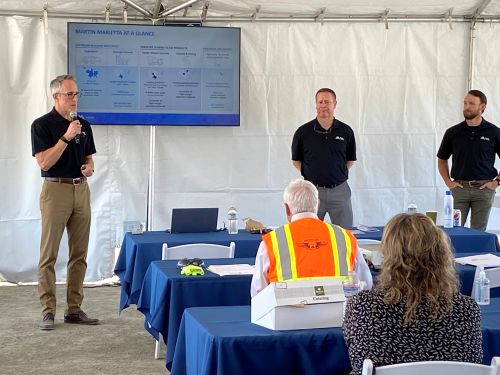 Martin Marietta completed its acquisition of Lehigh Hanson's West Region business on Oct. 1, taking ownership of a host of West Coast resources and welcoming nearly 1,300 new people. The announcement was met with great fanfare in the press and on social media, but it was on the ground where the excitement was most prevalent.
By the time the Oct. 1 "Day 1" arrived, leadership from the Corporate Office as well as the West and Southwest divisions had pulled together an extensive plan to visit Martin Marietta's newest operations.
In total, more than 50 Martin Marietta employees in 10 teams – each including a division leader along with professionals from HR, safety, corporate communications and local partners from the former Lehigh Hanson operations – visited 17 locations to hold 54 welcome sessions.
Each session featured key Martin Marietta highlights, including the company's recent growth, its Guardian Angel and ONE cultures and a brief history of the West Division; nearly all operations brought to Martin Marietta as part of the acquisition will be grouped as the Pacific Region, which along with the Rocky Mountain Region, will comprise the full West Division. Pacific Region cement teams, while also belonging to the West Division, will report to leadership in the Southwest Division, which houses the company's heritage cement operations
Ian Firth, vice president-general manager of the Southern California Aggregates District, attended a Day 1 session near Los Angeles and said he was highly impressed by the Martin Marietta representatives he met.
"You made all of us feel immediately welcomed and inspired to be a part of the great culture that has been built at Martin Marietta," he said. "Personally, I'm excited to contribute to the future success of this company."
Noting that many of his colleagues felt similarly, Firth said the Day 1 events set "some pretty high standards when it comes to growing the business," which has helped create a great deal of enthusiasm.
Jerry Weber is one of those people excited by the shift to Martin Marietta. An equipment operator at Sunol Aggregates about 20 miles north of San Jose, Weber said he is confident the acquisition will be beneficial for all involved.
"Everyone here has been looking forward to it," he said. "Martin Marietta seems like a really good company – a real up-andcoming company. So, I'm good with it."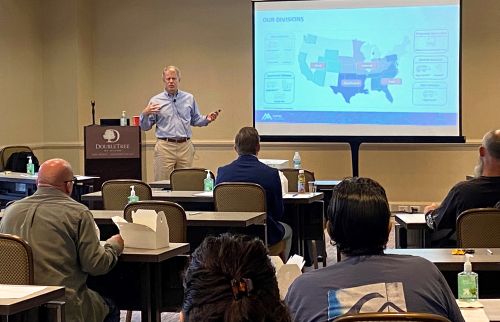 Every team member who attended a Day 1 session received a welcome packet that included, among other items, a letter from Chairman and CEO Ward Nye and a $100 gift card to the Martin Marietta Company Store. Session participants were additionally given their branded Martin Marietta PPE, which Administrative Clerk Linda Lopez said was quite popular.
"The gifts we received really went a long way," she said. "It's little things like that that help get people excited."
With her ear constantly to the pavement, Lopez said she had heard many of her colleagues raising questions in the weeks leading up to the acquisition. The Day 1 sessions, she said, eased many of their concerns.
"There were plenty of answers and they were explained clearly," she said. "I get the feeling everyone is happy with this change."