Environment and community first
Aug 01, 2022
Leadership at the Magnesia Specialties Lime and Stone operation has entered into an agreement that will decrease the site's greenhouse gas emissions and provide valuable community assistance for decades to come.
Reached in the final weeks of 2021, the deal with industrial power company One Energy will bring three wind turbines to the division's Woodville, Ohio, operation that are projected to lower the site's emissions by up to 10,000 metric tons per year. The move is in line with Magnesia Specialties' pledge to cut emissions by 10% by 2030. Construction on the turbines began this spring and will continue into the fall.
"We've been looking into this for some time, but we wanted to fully understand the technology and its impacts in order to make sure this move would be sustainable for us," said Wade Weaver, the site's general manager. "We've worked closely with One Energy and we've seen the studies. This is a highly beneficial project that will help our team meet its long-term emissions goals."
Set to be constructed on a reclaimed section of the property, each turbine base will stand about 260 feet tall and feature three, 143-foot blades.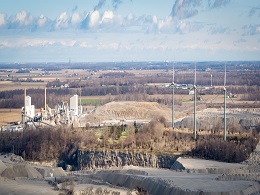 Before signing the formal agreement, One Energy worked with Martin Marietta to conduct a series of feasibility studies. The studies took into account a wide number of factors, including the turbines' potential shadow and noise impacts and the potential for ice to become hazardous and/or affect turbine performance during the colder months.
One Energy Senior Vice President and Head of Project Planning and Technology Jessica Grosso said the turbines will be positioned to perform safely and optimally.
"This site is ideal," she said. "The studies we have performed in the past few months have yielded positive results, but for a project like this to work, you also have to make sure that that wind resource is present. The land Martin Marietta owns has a great wind resource so these turbines are expected to work very well."
Once up and running, the turbines will immediately help the Woodville plant meet its energy needs, Grosso said. Though their impact will vary from month to month based upon seasonal weather conditions, on average, the turbines are expected to create 14 million kilowatt hours (kWh) annually, or enough energy to run approximately 1,200-1,350 average-sized homes.
Weaver said safely maintaining the turbines was one of Magnesia Specialties' chief concerns when first learning about the technology. Quickly, however, the Lime and Stone team found that safety is just as important at One Energy as it is at Martin Marietta; Grosso said the Ohio-based company has experienced no lost-time injuries and just one recordable injury since opening in 2009.
"One Energy is vertically integrated, meaning we don't just design these turbines, we do all of the development work up front, perform the construction and then handle all of the maintenance," she said. "The reason we've built our company this way is because it allows us to prioritize safety. It allows us to uphold our own high standards and not rely on the practices of a contractor."
One Energy will fund the installation of the turbines and then provide the region about $27,000 in additional annual tax revenue. Beyond that, One Energy will create one $5,000 Megawatt Scholarship for each turbine to be awarded to a local college-bound student during each year the turbines are in operation.
Martin Marietta has signed a 20-year contract with One Energy, meaning the scholarships will assist at least 60 students in the Woodville area who plan to enter a STEM field (science, technology, engineering and mathematics) and provide total college aid of at least $300,000.
"We have long valued our partnership with the people of Woodville and very much appreciate this opportunity to give back to the community," said Magnesia Specialties Division President Chris Samborski. "As we move forward, these wind turbines will significantly reduce our environmental impact and bring substantial tax benefits to the region. Additionally, the Megawatt Scholarship will provide support to dozens of our local students over the course of our contract with One Energy. The overall impact of this project will be truly great."