Minnesota district hosts women of asphalt
Jun 14, 2022
Martin Marietta hosted a tour for the newly incorporated Women of Asphalt Minnesota/Dakota Branch (WoA) on June 14, providing all involved with a valuable learning and networking opportunity.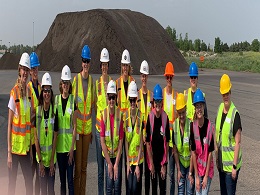 Minnesota District Environmental Engineer Christina Morrison, a member of the WoA, led the group through the Maple Grove facility's sand and gravel mine and asphalt plant. During the event, participants learned about Martin Marietta's aggregate and asphalt production processes from Area Production Manager Pete Olson and Asphalt Plant Manager Brad Paul.
"The Maple Grove facility also provides a great opportunity to observe the complete life cycle of a mine, from an invaluable aggregate resource through the reclamation process," Morrison said. "We showed them several successful reclamation projects, highlighting the transformation from previously mined lands to commercial, residential or public spaces that shape and define our community."
Morrison said she and others at Martin Marietta were "thrilled" to offer their support to the WoA. "Seeing the success of this event and knowing the value Martin Marietta places on community, we're hopeful this will help us develop a stronger relationship with the WoA.