Martin Marietta holds biennial underground mine safety conference
Mar 17, 2020
Martin Marietta's underground community came together recently for two days of learning, networking and sharing of best practices.
The biennial Underground Mine Safety Conference in Collinsville, Illinois, was the largest to date and the first held since the company moved all of its underground operations into a combined Central Division.
The late February event featured in-depth presentations and discussions led by Martin Marietta professionals on topics like underground electrical safety, communications, ventilation and mine rescue.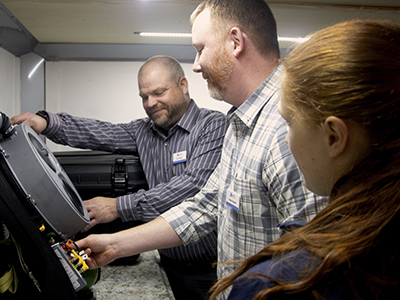 Other presenters included a physician, who discussed occupational health; an attorney, who spoke about Mine Safety and Health Administration (MSHA) regulations; and several vendors, who focused on such topics as fall prevention.
Des Moines District Production Manager Ryan Bender helped plan the conference alongside Vice President of Safety and Health Michael Hunt, Des Moines District Vice President-General Manager Todd Clock, Director of Explosives Mike McGill and Indiana District HR and Safety Manager Jeff McIntosh, and said the group's primary goal was to help move underground practices forward.
"We really worked to build on the success we've had with prior meetings," Bender said. "I think all of us recognize what a great opportunity this is to have a highly talented group of people together and focusing on the evolution of our underground safety culture."
Alden District Production Manager Bruce Hansen was among the nearly 70 people in attendance and said that while he wished the conference had focused a bit more on future enhancements, he found several of the presentations highly engaging.
"The update on our mine rescue teams was good to hear and the presentations on Fort Calhoun Mine Development by (Mining and Engineering Project Manager) Phyllip Bowers and ground control by (Appalachian Mining and Engineering President) David Newman were especially instructive," he said.
Hunt said the next Underground Mine Safety Conference is tentatively scheduled for 2022. Though only a biennial gathering, Bender said the mere fact that it occurs regularly speaks volumes about Martin Marietta's values.
"Putting on an event like this requires a tremendous amount of time and resources, but from our corporate executives to our division presidents and vice president-general managers, it's supported at every level," Bender said. "It's the type of event that really demonstrates our company's commitment to advancing our safety culture."