'All of us working together every day'
Vice President of Safety and Health Celebrates 35 Years of Service
Sep 27, 2023
"Thirty-five years an important milestone, but this isn't really about me," he says while taking a moment between meetings to field questions about his career.
Though Vice President of Safety and Health Michael Hunt has helped guide Martin Marietta's safety success for more than three decades, the long-time company leader is loath to take credit, even when celebrating a substantial work anniversary.
"Safety is a shared responsibility," he says. "When I think about my time here, I don't focus on any one thing I have accomplished. I focus on the evolution of our safety culture and the impact that growth has had on our company and our people."
Serving in his current role since 2013, Hunt has helped drive that evolution; while the Martin Marietta safety culture of today has roots extending deep into the company's history, many of the most important safety developments have occurred on Hunt's watch.
Guardian Angel is a perfect example.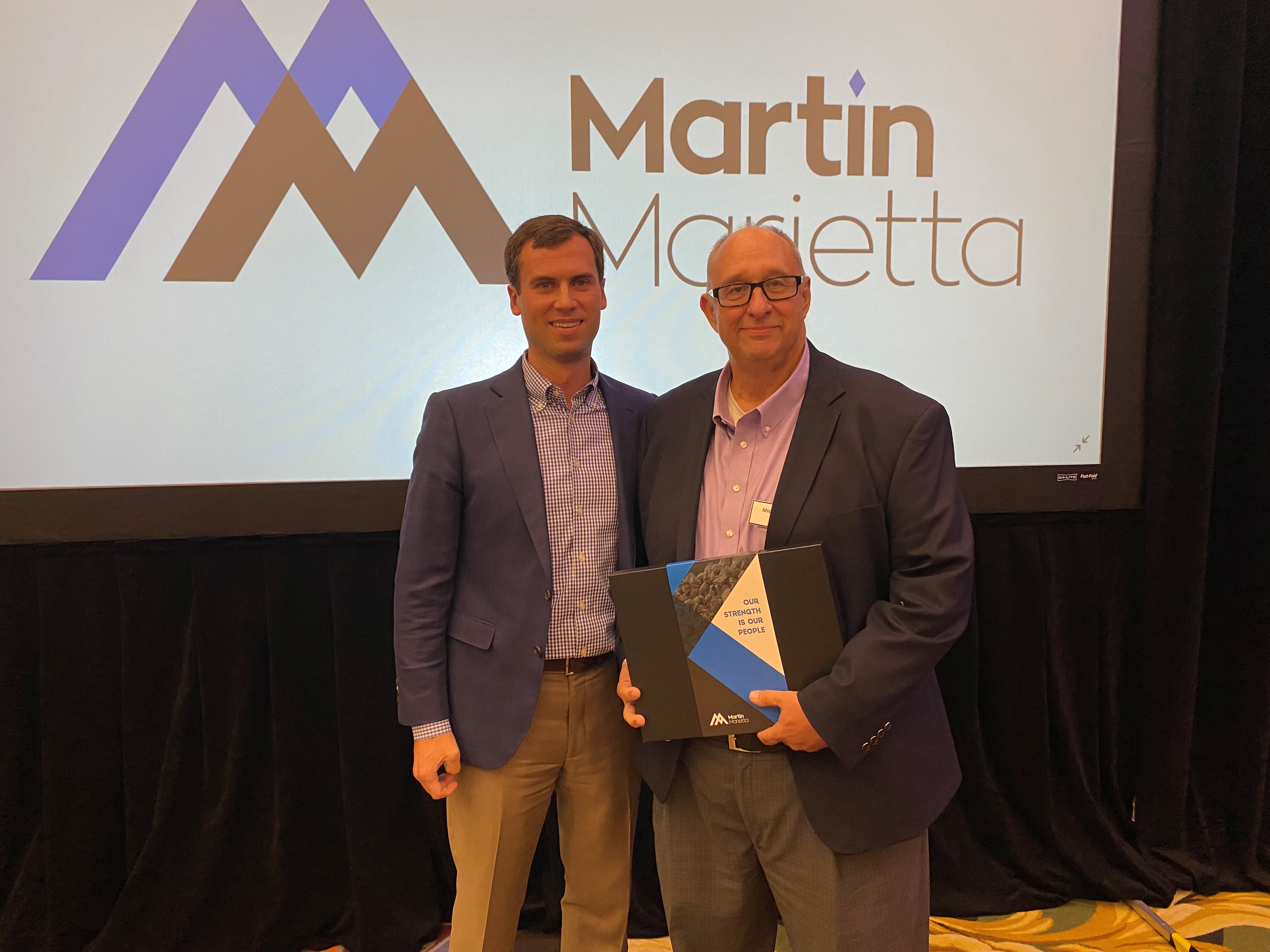 Developed by a committee of employees in the 1990s in what is today the company's Southwest Division, Guardian Angel and its accompanying Creed and Wingman concepts were adopted across the enterprise in 2015.
An extensive safety culture has grown around Guardian Angel in the years since as it has become a staple for every company team regardless of work environment or business line.
Once firmly established, Guardian Angel served as a platform from which Hunt and his safety colleagues would launch several successful safety efforts.
When the World Class Safety Task Force was created in 2017, Hunt played a key role. Working alongside the group, Martin Marietta's safety professionals partnered with production teams to design and implement a companywide Safety Mentor Program. Today, that program ensures newly hired teammates receive adequate and consistent training regardless of their location within the company.
Next, Hunt and the safety team began work with the Procurement Department on a personal protective equipment (PPE) standardization project to provide all operational professionals with the safest, highest quality and most comfortable PPE. The project has resulted in substantial cost savings through bulk purchasing of selected high-quality equipment and given Martin Marietta's teams more consistency from coast to coast.
Soon after, Hunt's safety group began regular work with the Corporate Communications team. That partnership spawned several companywide safety campaigns and a monthly publication, the First: Safety Guardian Angel E-Newsletter.
Most recently, Hunt has worked with Chairman and CEO Ward Nye and Senior Vice President of Enterprise Excellence Oliver Brooks to organize the recently created cross-functional Safety Task Force. The group's work is expected to guide the company's safety culture for years to come.
Though difficult to place precise results on any one of these significant efforts, the cumulative effects are clear: Martin Marietta is far safer today than it has ever been. Statistically, the company has achieved numerous records in recent years. On the most practical level, that means more and more of Martin Marietta's people go home safely each day.
"This is a great company, and I'm proud to be a part of it, in large part, because of projects like these," Hunt says. "Martin Marietta is about every single one of us working toward continuous improvement. No one person, or even one team, can drive safety. Doing that takes all of us working together every day."