60 years of service
Salisbury Shop team celebrates major milestone
Aug 02, 2023
The shop sits on 80 acres of land with more than 50 welders, mechanics, machinists and other crew members ready to help Martin Marietta's operations with a variety of equipment-related challenges.
"Whenever and whatever it takes, we are here for anything our sites and other crews need," said Don Mahaffey, logistics & customer relations manager at the site. "After 20-some years, I can tell you that you never know what kinds of things will come out on the other side of the phone. But no matter what it is, we will do things quickly, correctly and better than an outside vendor could."
There is a sense of thrill within the concrete walls of the shop, a sense that the crew is ready for whatever may come their way.
Derrick Neely, lead equipment specialist who has been with Martin Marietta for 36 years and at the shop for 23, says there's excitement at the Salisbury Shop because every day is different.
"It is certainly unique here. Some days it's easy and standard fixes. Other days we are swapping out a whole crusher," he said. "You never really know what to expect."
But one thing the entire crew can rely on is a continued dedication to safety, team members say.
Both Mahaffey and Neely say they have seen continued steps Martin Marietta has taken to enhance and prioritize safety.
"Over all my years here, you can see how good, safe working habits have been made increasingly important," Neely said. "And I think in this industry, that is what makes Martin Marietta such a good company to work for."
The person who has been the greatest witness to this continued change is Salisbury Shop's most senior employee, Mechanic Supervisor Aaron Byerly.
Byerly, who started at the shop in 1980, says the biggest change he has seen, hands-down, is the continued advancement of safety.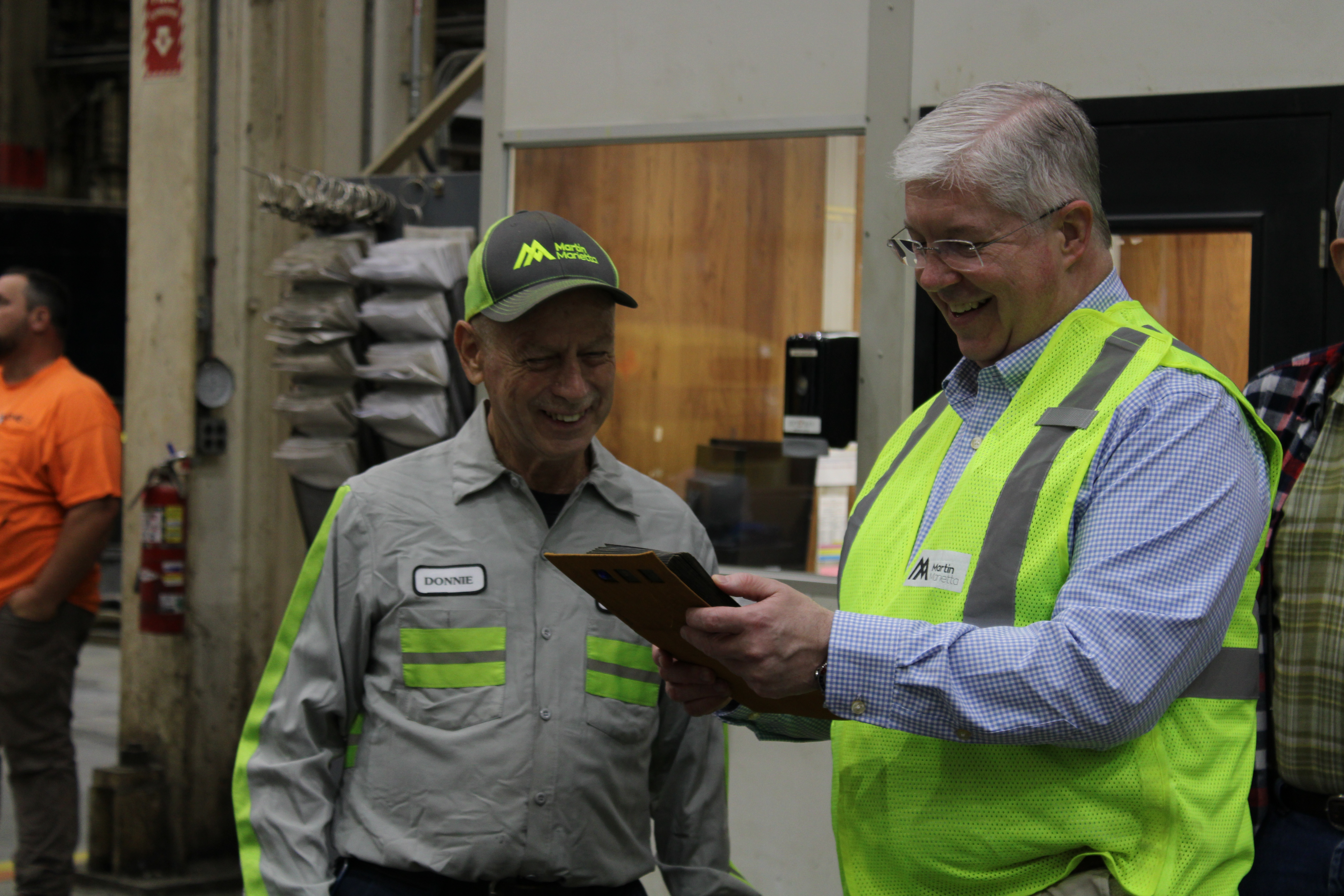 "When you look back to when I started over 40 years ago, you think about how we didn't even have the most up-to-date safety glasses. But now, we have all the world-class safety practices and equipment," he said. "It just speaks volumes on how we can identify what is needed and move forward with improving it."
And the numbers certainly show this. The shop team recently surpassed 500,000 working hours without a reportable incident and currently sits at 900,000 hours since its last lost-time incident.
Byerly started as a trainee and worked his way to a master mechanic before ending in his current role. He says he would offer any new employee the same advice:
"To succeed here, first and foremost, you have to work safe and embrace the ONE culture," he said. "You must be willing to be mentored and support the Guardian Angel mentality. You have to realize that the best way to get better is to hear important things from people who have been there, who have seen it and who are willing to help."
In June, the shop invited current and past employees to celebrate the past six decades of dedicated service. Among the many on hand to reminisce about their memories and celebrate the shop's future was Martin Marietta President and CEO Ward Nye, who spoke before the crowd as the festivities began.
"I'm not sure exactly what Trent Ragland and the management of Superior Stone were thinking on that month in that year, but the notion that this shop would be here in 60 years, that Superior Stone would spawn into Martin Marietta, and that you would be servicing, in varying degrees, 500 locations from coast to coast, was probably not something he had in his mind," Nye said. "The fact is what you all have been able to do over that period of time, very seamlessly, is to transform yourself into a world-class shop that can handle anything that comes in here."
Seeing the crew, past and present, the feeling of joy was unmistakable, and perhaps the person who felt this the strongest was Senior Director of Production Services Damon Allen.
"To me, this milestone anniversary shows the years and years of experience and the dedication, efforts and skill that this shop has seen since the beginning," Allen said. "We're still doing the same things our crew was doing 60 years ago, we're helping operations maintain and run their equipment as effectively as possible. And 60 years from now, that is still what we will be doing."
As time rolls on, Allen says there has been better technology and advancements in mechanical processes, but at the end of the day, it is the people and their hard work that has made all the difference over the past several decades.
"The feedback we get from the sites around the company is very responsive because there is a natural tendency for people who work for Martin Marietta to want to help other people who work for Martin Marietta. We're all on the same team," he said. "We get to see, every day, the fruits of our labor and there is a deserved pride in knowing you did a job well done."