Martin Marietta is safer than ever before
Company teams achieve record performance in 2021
Mar 02, 2022
Martin Marietta's people set new benchmarks for safety in 2021 as the company completed its safest year on record.
Heritage operations reduced reportable incidents by 21%, which led to Martin Marietta teams achieving a total injury incidence rate (TIIR) of 0.84; the performance exceeded the world-class TIIR standard of 0.90 for the first time in company history. Three operating divisions – the Southwest, East and Central – displayed even stronger performance, recording TIIRs of 0.66, 0.72 and 0.75, respectively.
Lost-time incidents continued to reach record lows, with the company's lost-time incidence rate (LTIR) of 0.15 exceeding the world-class standard of 0.20 for the fifth consecutive year.
In terms of regulatory compliance, Martin Marietta operations were declared "citation free" in 56% of all regulatory inspections. The company's citations per inspection (CPI) rate of 1.08 and citations per day (CPD) rate of 0.29 significantly outpaced the industry's average rates of 1.71 and 1.13, respectively.
Chairman and CEO Ward Nye praised the record safety performance and challenged every member of the Martin Marietta team to prioritize safety at every turn.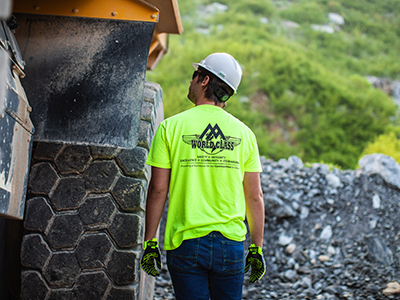 "What we achieved in 2021 is a testament to not only Martin Marietta's culture, but the willingness and ability of our people to strengthen that culture each and every day," he said. "We all deserve a moment to reflect on our success. Thereafter, we must continue to look forward and focus on the many ways we can improve."
Echoing Nye's sentiments, Vice President of Safety and Health Michael Hunt credited the company's safety performance to a variety of factors.
First, he recognized the company's safety professionals for continuing to lead by example and for always keeping safety in the forefront of every employee's mind. Next, he noted a number of companywide developments, including the personal protective equipment (PPE) standardization project, the expansion of the Safety Mentor Program, the division-level effort to prioritize safety audits during the COVID-19 pandemic, and safety campaigns such as the Why I Work Safely/Why I Want YOU to Work Safely effort.
Finally, he identified what he called the most important factor in the company's success: its people.
"Across Martin Marietta, our teams were more focused than ever before and increasingly engaged in our Guardian Angel safety culture and its Wingman principles," Hunt said. "That these elements of our performance paired so closely with a vast improvement in our safety figures is no coincidence. To a person, we're dedicated to safety in our hearts and our minds. To continue going home safely to our families, we must rededicate ourselves each day. No aspect of our work is more important."
While stating his desire for last year's performance to continue, Hunt stressed the need for every team member to focus on fundamental behaviors like maintaining situational awareness, practicing proven safety techniques like three points of control, and adhering to all COVID-19 policies and protocols.
Above all, he called for continued commitment to Guardian Angel.
"I'm hopeful that our people will continue to embrace our safety culture and do everything in their power to strengthen it," he said. "It doesn't matter whether you're new to Martin Marietta, or whether you've been with us for decades, safety is a shared mission. For us to truly succeed, we need to work together."