Alabama quarry hosts information site tours for city leaders
Apr 28, 2022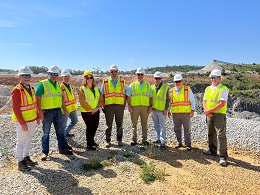 Auburn Quarry was the site of two special tour events in the spring, welcoming about two dozen city officials eager to learn about mining and how the site operates.
The first tour, for the Auburn Water Works Board, occurred on April 28 while the second, for the City of Auburn Academy, took place on May 5, said Auburn Plant Manager Adam Williams, who led both events.
"These events were about community relations and education," Williams said. "These types of tours are valuable opportunities for us to meet with city employees to discuss mining, how our site works and what our products are used for."
Williams said the quarry is permitted to discharge water into nearby Lake Ogletree, the city's main source of drinking water, so much of the tour focused on the significant measures the team takes to ensure any water leaving the site is clean.
Williams said most who participated in the events had never visited a quarry and were excited by the opportunity to do so. "They were ecstatic," he said. "Everyone who came through was incredibly impressed by our operation and the work that our people do."