More than just a materials supplier
Martin Marietta's Des Moines District steps up for community skatepark
Sep 14, 2020
"This isn't just a skatepark, it's the skatepark," says Des Moines District Sales Manager Jay Johnson.
After two years of construction, the Lauridsen Skatepark nestled along the Des Moines River will be ready for nollies, ollies, kickflips and madollies by this coming fall. Built in part with materials from Ames Mine and Saylorville Sand, it will feature 88,000 square feet of skateable surface – enough to make it the largest skatepark in the United States.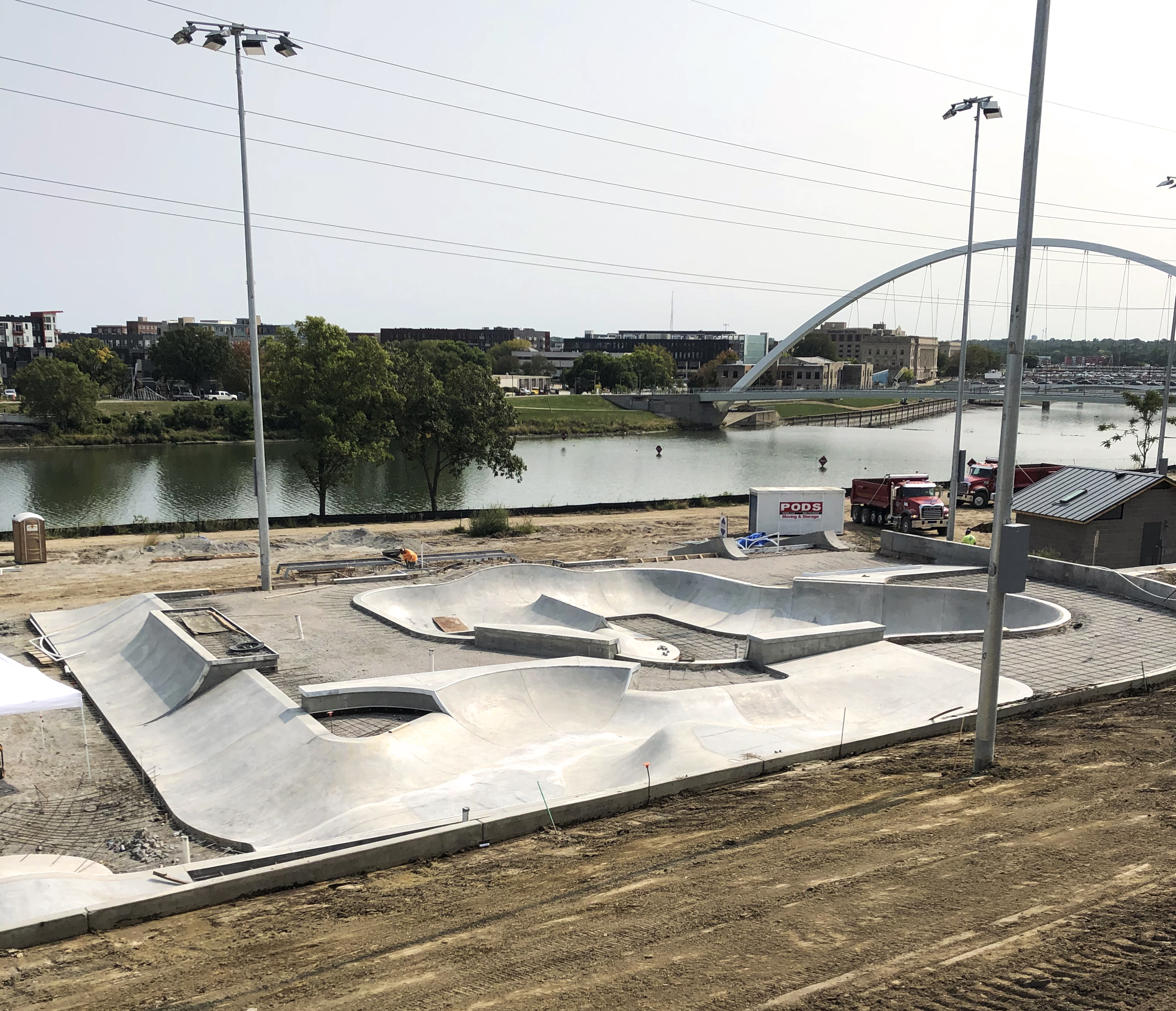 Johnson, the lead Martin Marietta sales contact for the $6.3 million project, says the city of Des Moines donated the 5 acres of land needed for the park, but the rest of the project has been funded almost entirely by donations from the public and the region's leading companies.
"Nix and Virginia Lauridsen are well known philanthropists in Iowa, and they provided $1 million as seed money for the park," Johnson says. "Once they got the ball rolling, many of the largest companies in the area started to come forward. Many are very good customers of ours."
After learning of the project through local customer contacts, the team in the Des Moines District agreed to help how they could. Since this year's spring construction began in April, Martin Marietta has provided about 9,300 tons of material for the park at a discounted rate. Johnson says the material donation so far is worth nearly $60,000. By the time the skatepark is completed, Johnson expects the company will have donated an additional $40,000 in material.
"This is all about being part of the community," he says. "We don't want to be just a materials supplier that works behind the scenes. In this case, we stepped up to contribute when our help was needed. When this park is finished, it's going to be impressive."
Having attracted the attention and support of the Tony Hawk Foundation, an organization founded to promote health and wellness among children by working with municipalities to ensure access to quality public skateparks, the Lauridsen Skatepark is primed to have an incredible impact on the local community.
According to media reports, the facility is expected to draw more than 40,000 skaters a year, and because it's being constructed to Olympic standards (skateboarding was to have made its debut as an Olympic sport during the postponed 2020 games in Tokyo), the park is drawing the attention of national and international skateboarding communities and event planners. This could mean substantial benefits for community businesses.
"This really is just another way our city and county leadership is working with our corporate neighbors and private citizens to make our city a destination for the next generation," Johnson says. "When people think of Des Moines, I doubt they think of our amenities, but what we're all putting together here is impressive. It's really cool to be a part of it."