Martin Marietta site saves injured eagle
Pedersen Quarry rescues nation's symbol of freedom
Sep 01, 2023
Jordan Reichter, a yard loader operator for Pedersen Quarry in Humboldt, Iowa, takes the term "wingman" literally.
Three days after Christmas, Reichter was working in the quarry when he noticed a feathered friend, an eagle that had taken a seat in the field bordering a stockpile.
At first glance, Reichter thought nothing of it. For the Pedersen team, spotting wildlife is relatively common because of the site's proximity to the Des Moines River.
"It's not unusual to see eagles soar all around our site," he said. "It's almost every day you see at least one – along with deer, turkeys and pheasants."
However, later that afternoon, when he noticed the same bird still inside the boundary berm near the same stockpile, Reichter grew suspicious.
"At the time, I investigated by driving my loader within five yards of this beautiful bird," he said. "Our nation's bird wasn't fazed by my presence, other than to lie down on the bare ground trying to be hidden. At that point, I knew something was wrong."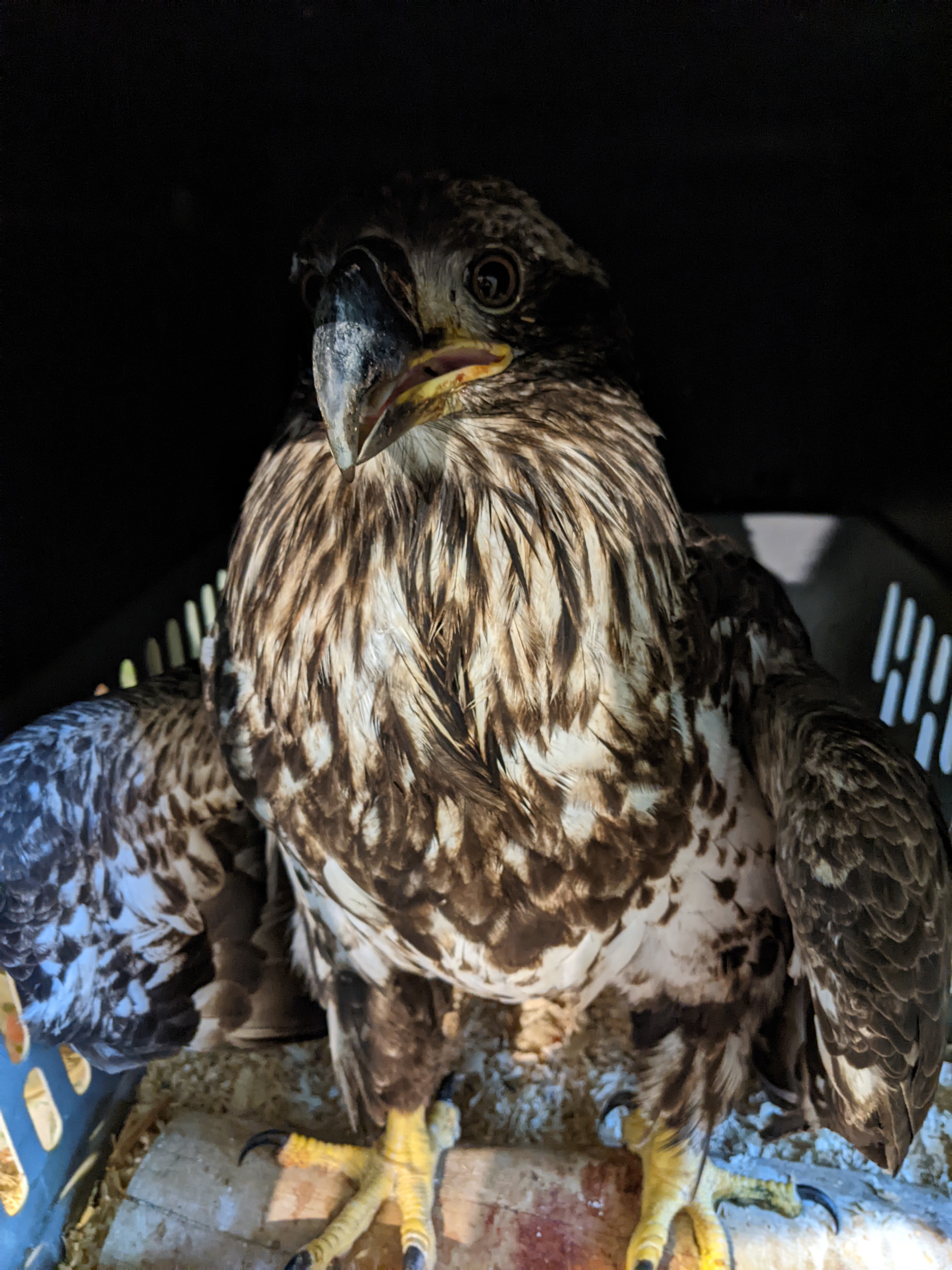 Reichter contacted the state's Department of Natural Resources, but was told that officials could not transport live birds due to their avian influenza (or bird flu) guidelines.
Luckily, there was another option.
Saving Our Avian Resources, or SOAR (no relation to Martin Marietta's SOAR), is a nonprofit organization that dispatches volunteers to help maintain and protect birds throughout Iowa. Established in 1999, the group is dedicated to safeguarding eagles, hawks, owls, falcons, vultures and other bird species through rehabilitation, education and research.
After speaking with representatives of the nonprofit, a plan was hatched to meet at the quarry during a point in the day when commotion was minimal. The goal, Reichter said, was to minimize stress on the eagle while capturing the bird so it could be examined and cared for.
Once on site, a SOAR volunteer was able to secure the sick eagle within about 20 minutes. They then placed the bird in a large pet carrier for transport to the rehabilitation facility, where it received treatment for eventual release back into the wild.
"She has finally gotten her appetite back, particularly for our catfish nuggets," said a hopeful Kay Neumann, executive director of SOAR, while caring for the bird in late January. "We are not fully out of the woods yet, but she's looking pretty good."
Reicher said he was ecstatic to help the animal and that doing so caused him to experience a variety of emotions throughout the day.
"Once it was captured by Wendy (the SOAR volunteer) and me, there was a feeling of awe with the size and power of this magnificent bird," he said. "When we got it, I was worried if it was going to be okay, but when we were finally able to provide aid and assistance, I was just happy that the proper medical attention would be administered."
Neumann said they were able to determine the bird was a three-year-old female bald eagle that was suffering from lead poisoning.
"This is common for eagles this time of yearas the birds must scavenge during the winter, which sometimes causes their food to have trace amounts of lead from bullet casings after hunting season," Neumann said. "Out of all the reasons we see birds come into our facility, lead poisoning is top of the list. This is particularly disheartening because it is completely preventable. We advise hunters to utilize non-toxic shots such as steel or copper slugs to protect these birds."
Speaking further, Neumann said the best way to avoid inadvertently causing injury to eagles and other birds of prey is to ensure all materials are thoroughly cleaned up after outdoor activities. Being mindful of the products used and always calling a local wildlife service person if an injured animal is spotted are other helpful tips, she said.
While the interactions between local wildlife and the quarry are always a concern, Reicher said the bird rescue has no impact on the site's production. He said the team would continue to keep the Earth's other inhabitants in mind when working on the land.
"We are guests in the world and in the habitats of animals," he said. "We must do our part at all Martin Marietta locations to ensure a clean environment is available for our wildlife."
Randy Klinger, plant manager at Pedersen Quarry, said the story of the eagle's rescue perfectly reflects the team's character and integrity.
"It says a lot about this group here at the quarry and how they focus on more than just production," he said. "To take the time to consider such a creature and make the right calls to ensure the proper care will be given to this iconic national symbol shows just how dedicated we are to nature and the land."